Pragati Vihar
Pragati Vihar Plotting Project at Chausathi Yogini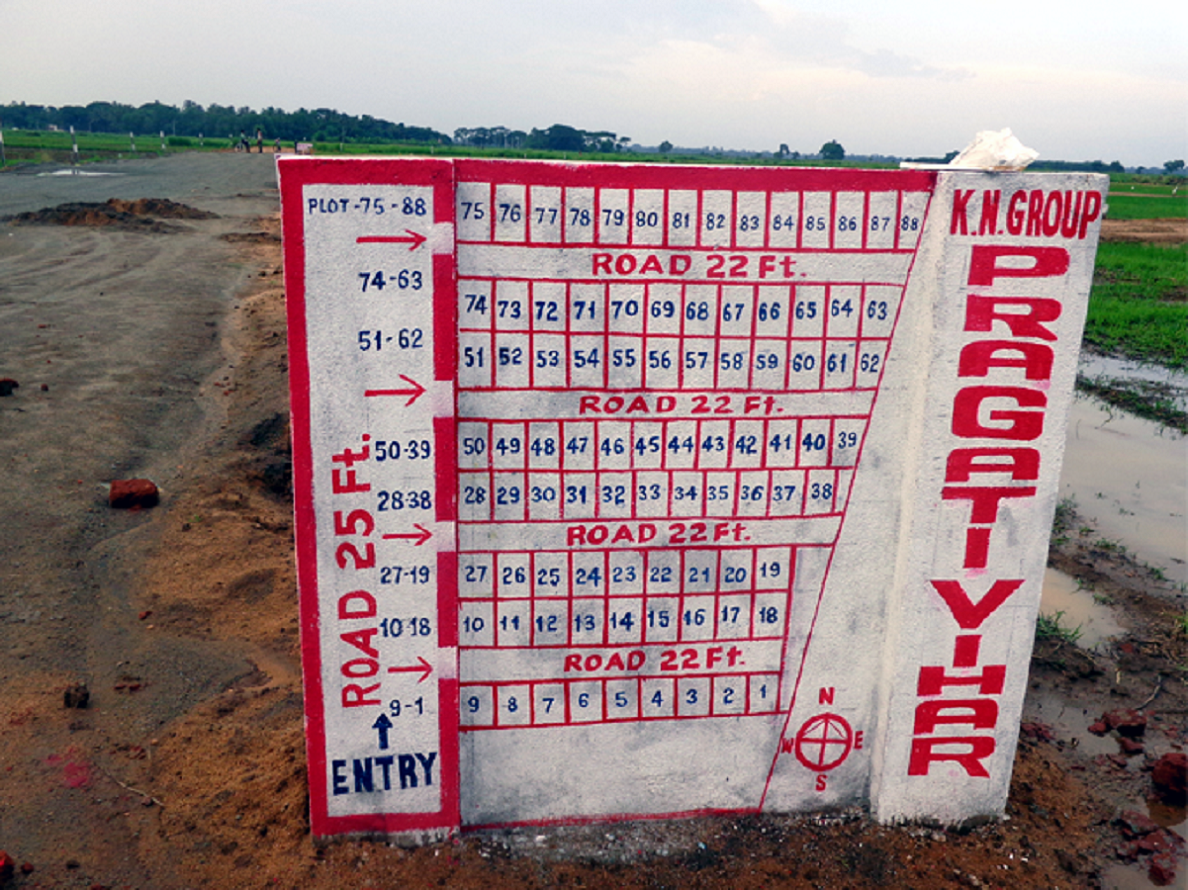 ADVANTAGES OF PRAGATI VIHAR
Every human being have a dream for his own home. We offer you a project "Pragati Vihar" which is envisions to transform this dreams into reality. our vision is to create residential establishments for people all strata of society and eventually help them to excel in the essence of their life. The endeavor is to improve the lives and aspirations of people and enhance their quality of life and work. To rekindle the "essence of life" & to cater for customers' needs of today and to perceive and provide for tomorrow's needs, we provide all such values with this project named "Pragati Vihar" along with high returns on investment of our customers. By focusing on strategic growth through existing and forthcoming projects we are providing most valuable lands near Bhubaneswar by this project "Pragati Vihar".
LOCATIONAL ADVANTAGES
It is situated near the temple of Goddess Chausathi Yogini, which is a very important spot of Odisha Tourism.
Adjacent to 200 feet Uttara-Konark via Balipatana main road, which takes only 10 minutes to reach at the project from Bhubaneswar.
15 kms from Bhubaneswar railway station & airport.
ADDITIONAL FACILITIES YOU GET
Best suited for constructing your dream home because it is high land, no water logging complication.
You will enjoy the facilities of both rural & urban life here.
B.D.A approved area.
Pollution free area where you can stay with family in your own dream house without health complication.
You will get 25 feet main road & 22 feet sub road connecting every plot.
Near to Balakati block, medical, market etc.
Only 5 km from Krupajal Engineering College (KEC), Barister Ranjit Mohanty Institute of management studies, 6 km from CIFA, 4 km from B.J.E.M School (Campus-2).
4 km away from Times Scholar Gurukul institution.
Will get all support from us on legal grounds like making sale deed, miutation & other types of legal formalities at reasonable charges.
Immediate registration facility in this project for you.
Company will help make sale deed, mutation, conversion & any other documents easily, without any prejudice at a reasonable price.
The soil is more fertile rather than other areas.
Town bus facilities are also available from different parts of bbsr to Balakati.
Along with above it is surrounded in different types of spiritual establishments like- most famous Chausathi yogini temple, Trahi achyuta aashram & Jhinti aashram..
FUTURE PROSPECTS OF YOUR PLOT
The value of land in this area is predicted to be more than double in the next 3 years, because of the expansion of the housing projects around Bhubaneswar.
It will be a safe investment giving you the highest ROI (Return on Investment) in future.
It will be a safe investment giving you highest ROI (Return of Investment) in future.
Your plot and the surroundings, will probably be highly appreciated by your future generation.
OUTRIGHT PURCHASE
PLOT SIZE SQFT
RATE
TOTAL AMOUNT
50% BOOKING AMOUNT
BALANCE AMOUNT TO BE PAID
WITHIN 90 DAYS OF BOOKING
1200
Rs. 600/-
Rs. 7,20,000/-
Rs. 3,60,000/-
Rs. 3,60,000/-
1600
Rs. 600/-
Rs. 9,60,000/-
Rs. 4,80,000/-
Rs. 4,80,000/-